Our highly successful Novice Programme has a history of coaching complete beginners through to international level whilst pursuing world-class education.
Learning to row at Bristol starts with Give It A Go sessions at the start of term. After this you have the option of signing up for a four-week Learn to Row programme, which includes 1 water session, 1 circuits session, 1 erg technique session and 1 group activity per week. Water sessions are held at the Saltford Rowing Centre and most land training is held at Coombe Dingle Sports Complex. After this course, participants will be given the opportunity to trial for the UBBC Novice Squad, or to compete on the regional circuit as a member of our partner club, Bristol Ariel RC. Those who earn places in the Novice Squad will then spend the rest of the year training and competing for the university, before transitioning into our senior squads in the summer. Novices have in the past qualified for prestigious events, such as the Temple Challenge Cup, by the end of their first year.
Alongside rowers, we also look to recruit coxswains. Whether you are interested in rowing or coxing, all novices start with the former to develop an understanding of the stroke themselves. If you express interest you will also have discussions with senior coxes to start learning calls for training and racing. Following the four week course, novice coxes will work with chosen novice crews for the year and be partnered with one of our senior coxes to provide support and feedback through meetings and analysis of races and recordings.
WHY CHOOSE LEARN TO ROW?
A few words from our past UBBC novices, including those who went on to compete at international level.
"Rowers are a breed unlike any other I had come across before and the opportunity to learn a new sport alongside people who have become friends for life made novice year unforgettable... rowing was hands down the best decision I made at university. I have had the best 3 years at university and that was definitely down to rowing!"
Alice Lovett, 5'10, EUSA W8+ Champion 2018
"Learning to row at Bristol has given me lifelong friends and was so much fun. At first, it was physically tough considering my lack of sport previously, however if you're looking for a challenge this is the sport for you. I'm going into third year and don't know what I would do without rowing, it has been a major part of my university experience and would recommend this to anyone, whether you have a sport background or not!"
Emelia Crocker, 6'2, HWR Qualifier
"Starting rowing/coxing was the one of the best decisions I've made. At first, the novice programme seemed daunting, however with the experience, motivation and laughter you get back, it is completely worth it. I would massively encourage anyone to take the leap and go for it! My first year was better than I could've imagined and that is definitely because of UBBC!"
Iwan Rees, 5'7, HWR Qualifier
"I'd say that if you are naturally competitive and you're up for a challenge, then novice coxing is definitely the go to. This is super cringe - but I honestly can't put into the words how exciting my first year of coxing has been. It's a wonderful opportunity and I would encourage anyone to go for it!"
Ophelia Morley, 5'5, BUCS Regatta Bronze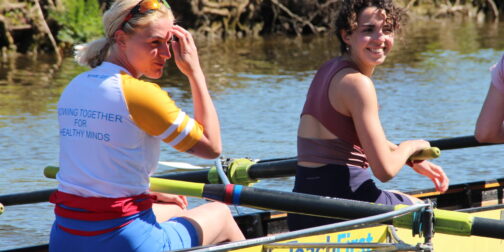 To find out more about our Learn To Row programme, get in touch using our contact form located in the top menu.
Want to get involved this year? Click below to join our Facebook Group and follow our socials to stay updated!