Having produced one of our best ever results in the Championship Eights at BUCS Regatta, the women's squad entered into the campaign for Henley Women's Regatta with strong expectations on the shoulders of our top crews. Following are the stories from each of the four crews entered into this year's HWR.
Aspirational Academic Four: S: Rosie Watkins, 3: Charlotte Greenwood, 2: Jemima Lucas, B: Grace Ward-Allen
As the leading crew from BUCS Regatta, the top four continued into the summer with the goal of winning the Academic Fours at Henley. Working under the eye of coach Ed Bloomfield, the crew worked hard at fine-tuning their strokes and racecraft in the run up to Henley. Having not raced at Metropolitan Regatta, the first test for the top boat came at Reading Amateur Regatta in the Sandeman Challenge Cup. The field consisted of the top boats that had raced at BUCS Regatta, and our girls were drawn against the impressive crew from Imperial College. Bristol put in a strong performace, but lost by 1½ lengths to Imperial.
Despite this setback, the girls arrived at Henley confident, and progressed through the time trial to be drawn against Leeds in the first round. The result went their way as they took a 4 length verdict over Leeds to progress through to the quarter finals. However the draw was not in their favour, as they were to face a strong crew from KSRV Njord.
Right from the start, there was drama as Njord steered towards Bristol off the Island, prompting evasive action from our girls and umpire Matthew Pinsent to get the white flag out. Despite losing some ground off the start, Bristol refused to give in against the Dutch, even with the verdict at the finish. However Bristol appealed the result, as they argued they had lost a significant amount of speed due to the steering at the start, but the race was white flagged by Pinsent, even after a heated discussion with both the crew and coach.
However, the season wasn't quite over just yet. The four also entered into the Town Challenge Cup at Henley Royal Regatta, with Mary Wilson of Wallingford RC coming in to the 3 seat and Charlotte Greenwood moving to the stroke seat. This new crew stayed on to train in Henley before racing for one of the qualification spots at Henley Royal. Unfortunately, they didn't make it, but this result takes nothing away from what has been a highly impressive season from our top women's crew.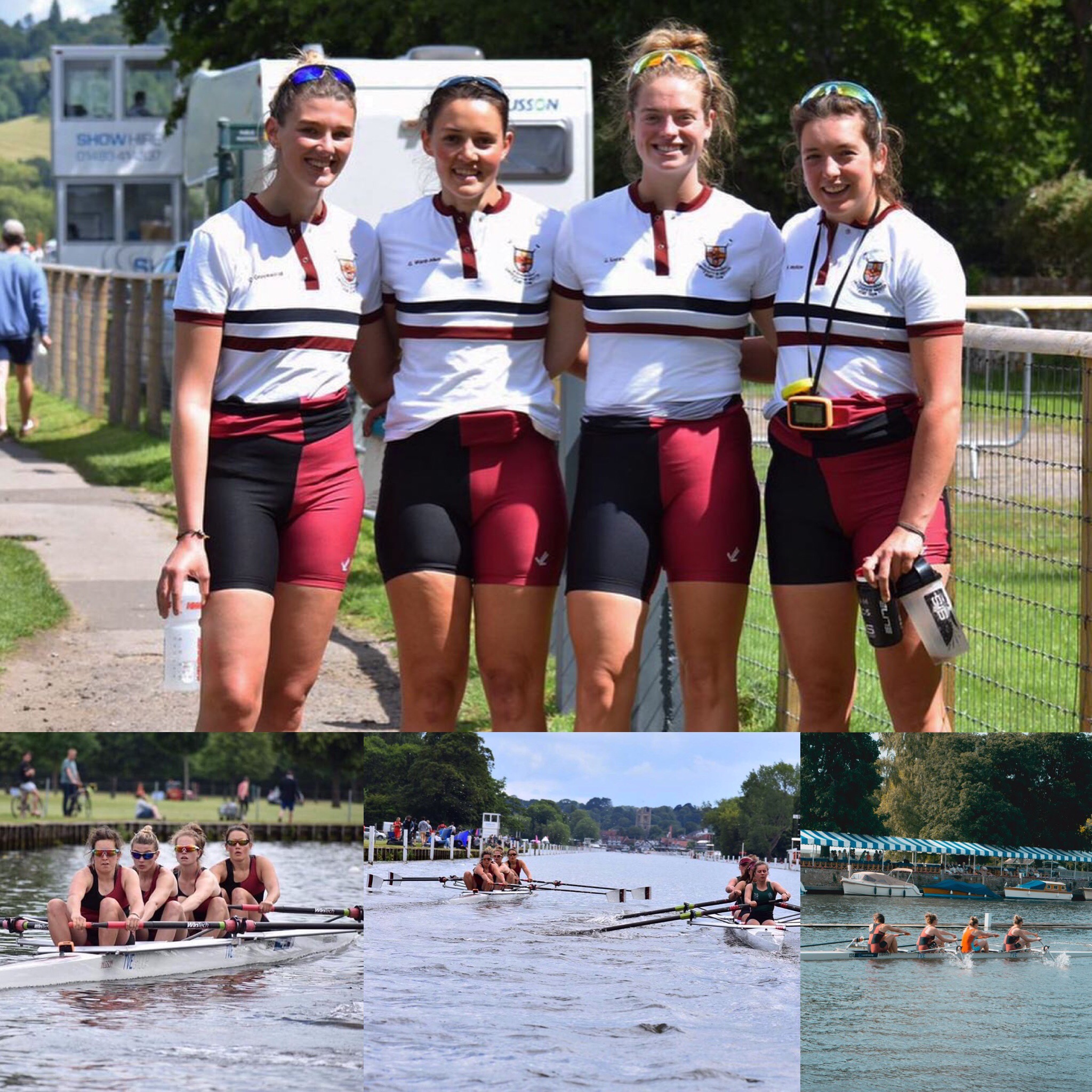 Aspirational Academic Eight: Cox: Ophelia Morley, S: Georgie Townley, 7: Susie Castle, 6: Georgia Swiatoniowska, 5: Natalie Dixon, 4: Hollie Saunders, 3: Molly Churchman, 2: Anna Roe, B: Issy Cox
Following the rigour of seat racing and selection, the decision was made to enter a "1st and a half" eight as the second boat. With only a few sessions in the eight, Reading Regatta was fast approaching and expectations were low. All feeling slightly down beat, worried we would not do well, we had to pull something, anything, out of the bag. On the day of Reading, even after a spectacular blade crash, the odds were in our favour and we won our first fixture against City of Oxford. The next race was against Brookes, we thought we'd stick to our race plan and not let the tanned leggy blondes get to us. They didn't. With them finishing a mere two lengths ahead we classed that as a definitive win.
Our confidence grew over the next couple of days, every session was filled with excitement and determination to see how much change we could make with the little time we had. Most of the girls within the boat had rowed for years, many also had attended Henley Women's several times before. This became very helpful when making changes as someone could always pinpoint what was making the boat slow down and everyone would then be set on holding that change throughout the session, the drive within the boat was insane.
Once at Henley the excitement had hit as we geared up for our time trial. Boat number 1. First down the course meant we had untouched water and it felt incredible. All of the training had come together and it proved to be a great race, undeniably impressive to the coaches and ourselves.
The draw came out and our first fixture was against United Hospital, a medics' boat club from London. We were confident we would beat them and knew that as long as we had a fast start and got ahead early we could conserve energy for the following races. We did not have a fast start. The first race was then much harder than anticipated, though we still won by a definitive length. Our next race was against Oxford University; from the time trial it seemed we were quite evenly matched. They were a larger crew, and a strong headwind favoured the Oxford crew. There was nothing to lose. It was potentially the last race of the season, so we went out hard. We however came out of Temple Island almost a length down, but we did not let it faze us, hitting our stride powerfully and not allowing them to gain any water. We pushed them hard, staying with them all the way. Sadly we lost by a length, but collectively we had given everything possible and we were overall extremely pleased with the outcome.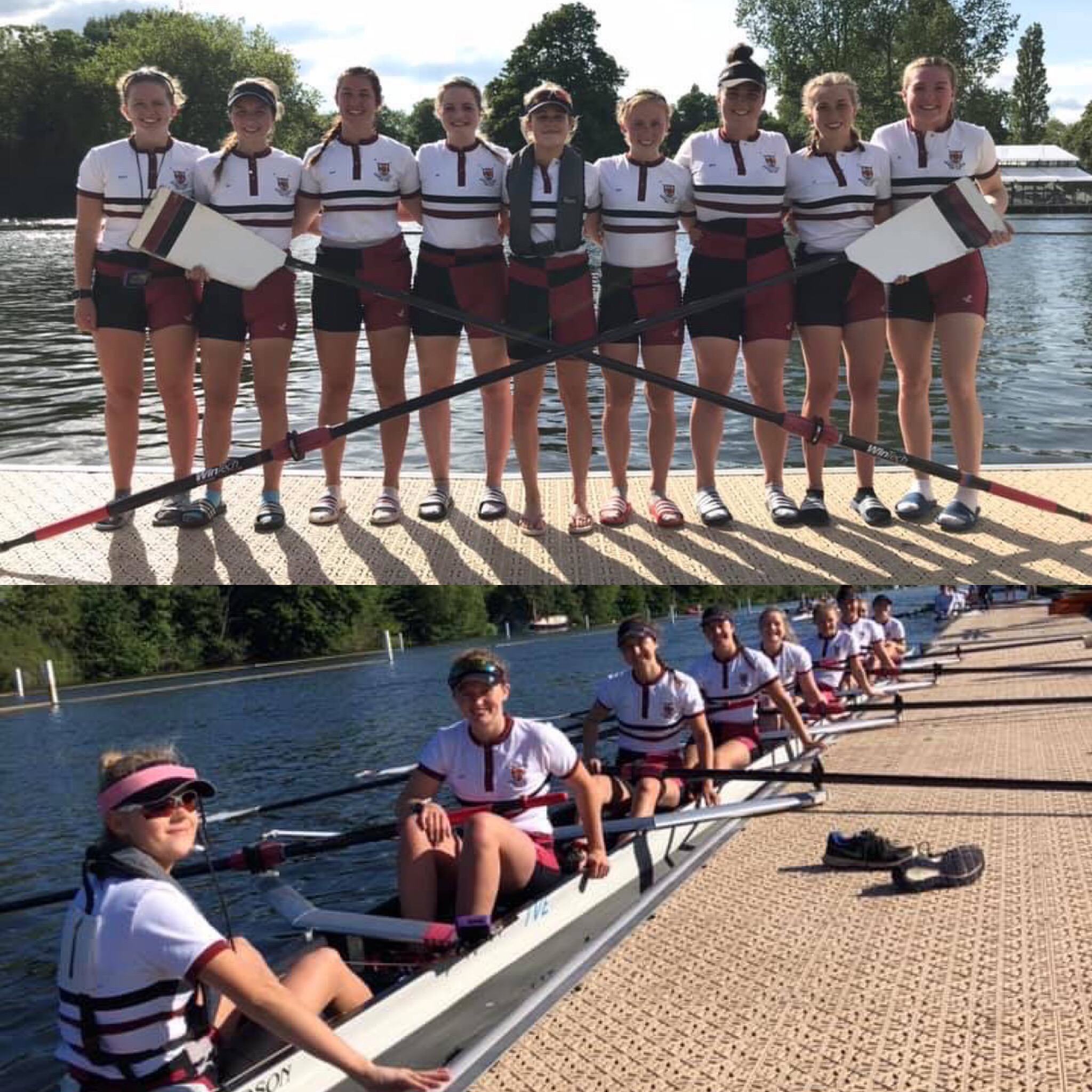 Aspirational Single Scull: Emilia Crocker
After training in sweep boats for the majority of the year, Emilia moved into the single following BUCS regatta with the aim of racing at Henley Women's in the Aspirational Single Sculls event. It was a tough six weeks of training in order to make her a candidate for qualification, having little experience in a single, only starting rowing in September of 2017.
Her first race at Met regatta saw her come 4th in the first round, finishing behind scullers from much larger clubs including Thames. After this Emilia bounced back at Reading, seeing off multiple scullers from Reading University to take the win in the 4th tier Women's Single Scull.
Buoyed on by the thrill and confidence of winning, Emilia took that confidence into the time trial at Henley Women's Regatta, coming a respectable 9th in the highly competitive field. The draw saw her facing off against a sculler from Wadham College, and Emilia went in with nothing to lose. Despite getting knocked out, she'd already achieved the goal of qualifying, and walked away with her head held high, making it a strong performance to end her season.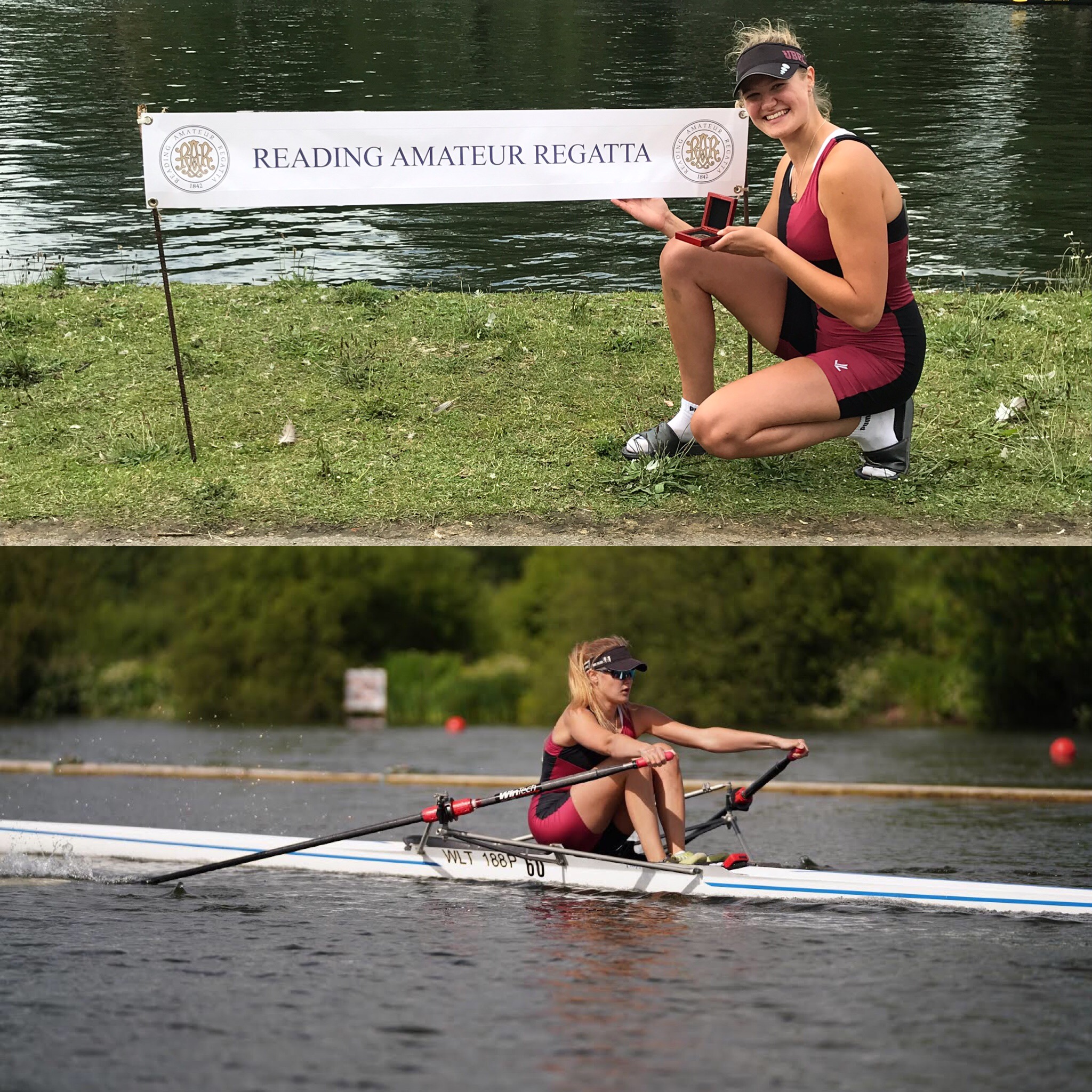 Development Coxed Four: Cox: Iwan Rees, S: Emily Pitt-Pitts, 3: Charlotte Blake, 2: Eleanor Griffin, B: Mimi Houlihan-Burne
After being put together in January, our development 4+ put in the extra hours each week with the aim of BUCS regatta. Our work payed off achieving a bronze medal in the beginner 4+'s. However, our sights quickly turned to our next goal: Henley Women's Regatta. With less time to train on the water, our main priority was to build our racing experience.
The first race in our campaign was The Metropolitan Regatta, racing against senior crews for the Littleton Rose Bowl, we aimed to simply race the best we could. Although, after winning our heat we went into the final in a strong position. In a very competitive final we managed to stay ahead and secure a win. On a high after this victory we then raced at Reading Amateur Regatta. After comfortably winning both our heats we then raced the final, pushing ahead at the start but eventually losing the win to St. Paul's School USA. We then headed towards HWR.
As just one of three novice crews in a field of 40 boats, our first goal was qualification. After rowing what we all thought of as one of our best races in the time trial we managed to qualify into the heats. That evening we raced Agecroft RC, holding them off for the first 1km, gradually pushing ahead, however in the last 500m in a battle to the finish they pushed away and took the win. Ultimately, we all said we had rowed the best we ever had and made our work and efforts worth it. It was an achievement for us all to even qualify for HWR in our novice year and we couldn't have done it without all the support from our coaches and captains.