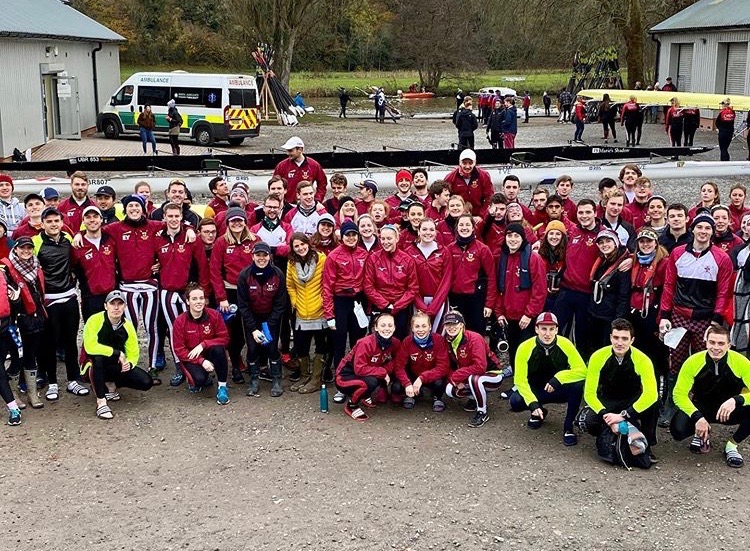 Last Saturday (30 November 2019) the University of Bristol Boat Club hosted our annual Head Race. Over 150 crews from a range of University Boat Clubs came to Bristol's Boat House in Saltford, and took to the River Avon to battle it out to be the fastest crew down the course!
Our senior squads took to the water in morning with both first eights looking to defend the headship. As the first boat down the course, the Men's 1st VIII had a clear course on which to make their mark.
"After much anticipation, and a dominant display at the BUCS Indoor comp, the Men's 1st VIII was fired up and rearing to go in search of their third consecutive win at UBBC Head Race. The boys got up to the start with confidence in their strength, with five members already having featured in winning crews over the previous two years. After settling into the loose rhythm they had been honing during training, they maintained this through the s-bends. Once onto the 'Salford Straight' they drew from practice and went all-out to secure Bristol's Men's Championship Medal for another year." Simran Gill, Cox Men's 1st VIII
Men's 1st VIII came away with a gold medal and an impressive start to the winter racing season!
Up next, the Men's 2nd VIII stepped up, to follow the 1st VIII to a medal winning time. Isabel Burridge is the Coz for the Men's 2nd VIII, and she spoke to us about their performance on the day:
"From our progression in sessions, we felt confident going into head race and were aiming high. The race itself went pretty well and the guys rowed fantastically, despite a few hiccups with the cox box and a last-minute manoeuvre! As a team we produced a good time, putting us first in our category and finishing sixth overall – a wonderful result that we as a crew can be proud of."
The Women's 1st VIII was the next crew down the course, and were another team looking to defend their headship from last year. They adapted well to new combinations, introduced by new Coach, Holly Stead, and the team put their training progress to use.  They finished in with a gold medal and an impressive 10 second gap between themselves and Bath University team, who finished in second place.
"As a crew we set out to push ourselves and work on the focuses that we had set, we aimed for a consistent race with good intent throughout. We set ourselves up well in the first part of the course, putting some distance between us and Bath, once we had navigated the s-bends and bridges, a final push down our home straight saw us into the winning position. Overall, a positive finish in a new combination, with our new coach, Holly Stead." Iwan Rees, cox Women's 1st VIII
Our Men's and Women's Intermediate 4+ crews were the last of the senior boats to race. Both were filled with relative newcomers to the senior squads, but despite this put in a really strong effort, with Women wining Gold and our Men's crew winning Bronze. We spoke to each crew about their performance on the water:
"Motivated by the home crowd we saw a big shift from the dynamic middle pair to overtake the crew out in front at 750m, with a sprint to the finish – we were all exhausted but delighted with our performance as a team." – Rose Scotton, cox Men's 4+ 
"We went into Head Race with a strong race plan, setting out our goals for the race developed during our training sessions. Once onto the bend after the final bridge, we had to take a wider line due to a capsized four but, after a quick technical reset, we got back into our final focuses for the straight and held our focus on strong grip through the water till the end, achieving first place in our category. – Ophelia Morley, Women's 4+ crew member.
To finish the day, in Division II, the Novice Squad made their racing debut. This came just weeks after their selection and with very limited time on the water beforehand.
The Men's Beginner VIII were first down the 1km course, aiming for a smooth race and to build on the basics they have worked on in training. They finished ninth in their field, but felt positive after the race with Anna, the Men's Beginner VIII cox, said that despite her nerves:
"The atmosphere and buzz of race day was incredible. I am so pleased with how we did and the resilience demonstrated by everyone. Bring on the next race!"
The Women's Beginner VIII followed, and finished in eighth place. Overall they were very pleased with their performance as a full crew, having done very little full crew rowing in training.
"We were really happy with our first race, we were energised by the crowds cheering [and] there was a high feeling of morale and team spirit – everyone was very pleased" – Kirsty Partridge, Cox Women's Beginner VIII
To end the day the Beginner 4+'s raced with an equally impressive debut – our Women's Crew came third in their category and our Men's crew finished in ninth (despite a collision into the bank at one point)!
"Our Women's Beginner IV got off to an excellent start in their rowing career this weekend. During the race they rowed at their very best, and ended the race pushed on by cheering support from the bank. We are very happy with the result and excited to build on this strong foundation going forwards." – Mollie Cornell, cox Women's Beginner IV
Ultimately, the day was a huge success for the club. We want to say a huge thanks to Simran Gill, our Events Officer, who organised and executed the day flawlessly. Also, a huge thanks to our Alumni Club – Nonesuch BC – for coming down and giving us a good run for our money!
We now look forward to the rest of the season and to next year's UBBC Head Race!!
FULL RESULTS – MENS:
Championship VIII+ – Gold
Intermediate VIII+ – Gold
Intermediate IV+ – 3th
Beginner IV+ – 10th
Beginner IV+ – 9th
Championship 1x – 2nd
Championship 2-  – 2nd
FULL RESULTS – WOMENS:
Championship VIII+ – Gold
Intermediate IV+ – Gold
Beginner VIII+  – 8th
Beginner IV+ – 3rd
Championship 1x – 4th
Championship 2x – 5th